Animation is a big industry in the present times and is used in various fields such as media, entertainment, medical and so on. One of the most important aspects of animation is 3D Animation. This domain includes modeling, texturing, rigging and rendering. In this section, we are going to talk about the work of 3D modelors. These modelors also called 3G artist create objects in computer which are used in the film and media industry along with the medical fraternity in the recent times.
This virtual art form is getting huge market in these days as any person can work as a 3D modelor as an individual or freelance, from home also.
This is the list of the top 3D modelers working in the industry, presently.
Neville Page: He is a British-American film and television creature and concept designer. Page has worked as a concept designer on films, including TRON: Legacy, Watchmen, Cloverfield, Avatar and Star Trek. He focused his work on design consulting along with business partner Scott Robertson. To know more, go to his official website.
Scott Eaton: He is a designer and artist based in London, UK. His work is a complication of elements of classical sculpture with contemporary themes and technology. As one of the pioneering artists in the field of digital sculpture, he combines technology of digital tools with traditional sculpting techniques along with 3D-printing and other fabrication methods.  his designs have been featured in Vogue, Wired Magazine, The Times, The Telegraph and Vanity Fair, etc. His work is available online in this website.
Pedro Conti: He is a  CG Generalist artist based in São Paulo, Brazil. This 27 year old talented artist is creator of the fine movie One More Beer. He is working as ead artist at Techno Image. Go and visit his official website, to know more.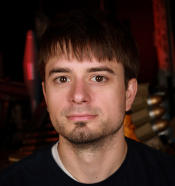 Joseph Drust: This artist from North Carolina, has a BFA degree in Game Design from the Savannah College of Art and Design. He has over ten years of experience as a as a character artist in the video game industry  with a focus on modeling and sculpting. His work is available in this website.
Alex Alvarez:  He is the founder of  Gnomon animation and visual effects school. He has also as creature development artist on films like Star Trek, Avatar, Green Lantern and many more. Look at his portfolio in this website.
Marek Denko: This 3D artist from Checkoslovakia has worked as  digital artist in Character modeling, Architectural visualizations in studios like ImagesFX, Blur studio and NoEmotion. His online work is in this website.
Victor Hugo Queiroz: He is a 3D artist in lighting and rendering along with being an Illustrator. He has worked in animation studios like Axis 3D studio and more. Visit his official website to see his work.
As you have known so much about 3D modelling and about the top 3D modelors in the world, you must be having an urge to make such breadth taking models and earn fame and money like this 3D stalwarts in the animation and VFX industry.
We at VEDA are offering our diploma course in diploma course in 3D animation, where we teach the latest animation software like Autodesk Maya and 3Ds Max. The students have the chance to make a portfolio and showreel with the help of our internationally certified faculties in our state-of-the-art studio.
There is a vast opportunity for 3D animators in the animation and VFX industry along with film industry. Their service in also medical industry.
To know more about our Diploma in Post-Production, go to our Courses page.
Image © google
Suggested Reading